A handy letter-by-letter guide to the greatest celebration of arts and culture on the planet
A is for artists
As in, the people who put on the smörgåsbord of art and entertainment through the month of August. Without them, there would be no Fringe. (You could say the same about one of our other favourite As: audiences.)
B is for bad shows
If you don't see at least one bad show during August, you're not doing it right. The Fringe is all about risk, experimentation – pushing yourself out of your comfort zone. Naturally that means you'll stumble across something that's less than brilliant in your travels, but do you know what? The worst shows make for the best stories.
C is for charity
In case you didn't know, the Edinburgh Festival Fringe Society is a registered charity that does lots of good work around the Fringe, like increasing accessibility for people with disabilities and providing ticket and bus vouchers to people who might otherwise miss out. By supporting the Fringe, you're supporting these charitable activities, so give yourself a pat on the back (and feel free to donate a bit extra, if you're able).
D is for dreich
You know the myth that some languages have 200 words for snow? We Scots have that for rain. By far the most enjoyable one is 'dreich' (pronounced by saying 'dree' and then clearing your throat), which sounds like what it means: grey, damp, miserable. Which isn't to say Edinburgh's always rainy – we probably have just as many balmy evenings as wet ones. Pack clothing that's suitable for both.
E is for everyone
Everyone is welcome on the Fringe. 'E' could also stand for 'eight', the number of companies who kickstarted the Fringe in 1947 by turning up uninvited and performing on the 'fringe' of the inaugural Edinburgh International Festival. The Fringe was born from the idea that everyone who wants to take part should be able to. And that still holds true, more than 70 years later.
F is for Friends
Not just the folk you'll befriend in the pre-show queue, but our official Fringe Friends, who get 2for1 tickets on a choice of thousands of shows plus loads of other great perks. Sound tempting?
G is for going out out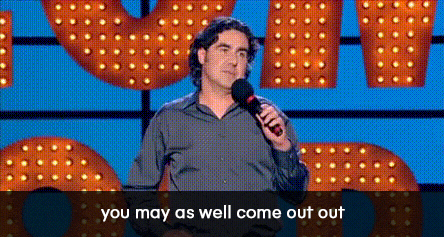 In true Fringe fashion, we don't believe in the standard 24-hour clock. 'Fringe time' operates daily from 05:00 till 04:59 the next day, so remember and save some energy if you're planning a late one.
H is for Half Price Hut
Located on the Mound, the Virgin Money Half Price Hut is very self-explanatory: it offers half price tickets for loads of shows on that day. Great for plugging any gaps in your Fringe schedule, or for taking a cut-price gamble on a show that's unfamiliar to you.
I is for Inspiration Machine
Ever feel overwhelmed by the sheer number of Fringe shows on offer, to the extent you feel like you can't choose any? This clever, arcade-style contraption solves that problem by presenting you with three random shows to pick from, complete with video introductions from the artists themselves. Visit it on the Mound, or online at edfringe.com/inspiration.
J is for joining in
In some shows or as part of the Virgin Money Street Events, performers might require a bit of audience interaction, and you could end up being chosen as a 'volunteer'. This is all part of the fun of being involved in a Fringe show. If, however, you join in without being expressly invited, this makes you a 'heckler', AKA someone who ruins other people's entertainment for the sake of their own ego. Please don't.
K is for kids
As the winner of the 2018 Family Traveller award, the Fringe is a certified family-friendly festival – and while it would've been nice to file that nice little bit of alliteration under 'F', it was already taken, so here we are. Check out the Children's section of the programme for kid-focused entertainment, or simply show them the Virgin Money Street Events and watch their little eyes widen.
L is for leave a review
Enjoy a show? Head to its listing on edfringe.com and leave a review – your fellow Fringe-goers will value the opinion of an honest-to-goodness fellow punter, and the performers will positively glow at your kind words.
M is for #MakeYourFringe
The Fringe Society is here to support artists putting on shows and to help audiences find them. You're the ones who make the Fringe, so go ahead and make it what you want it to be: a jam-packed cultural extravaganza, a late-night lock-in, a dip into something new and exciting. It's big and wild and unpredictable enough that everyone who comes here can take away something different from it, so go ahead… #MakeYourFringe.
N is for 'Nearby now'
The official Fringe App has several nifty features – including the ability to browse the whole programme and buy tickets on the move – but one of the niftiest is the 'Nearby now' feature. It lets you know what shows are closest to you and starting soon, meaning you're never far from a new discovery.
O is for other festivals
The Fringe is pretty spectacular, but it's not the only game in town this August, and we'd be remiss if we didn't shout out some of our festival sisters and brothers. The Edinburgh Art Festival, the Edinburgh International Book Festival, the Edinburgh International Festival and the Royal Edinburgh Military Tattoo all overlap with the Fringe, and they're all part of what makes Edinburgh such an amazing place to be in August. There are even more that take place the rest of the year!
P is for 'pay what you want'
Some shows in the Fringe programme are 'free'; others are 'PWYW', or 'pay what you want'. It amounts to the same thing: you don't have to pay anything to watch the show, but it's polite to leave at least a small donation at the end. (With PWYW shows, you can also pay to book a ticket in advance, though this is usually a minimal amount – you should probably still contribute a bit more at the end if you enjoyed it.) Remember, performers pour their heart, soul and often a good deal of money into staging Fringe productions; they'd appreciate at least a fiver to cover the price of a post-show pie and pint – or more if you can spare it.
Q is for queuing
Ah, queuing. The Great British institution – even more so than bake-offs or fish'n'chips, we'd wager. On the one hand, queues are a great place to chat with fellow Fringe-goers and pick up tips on good shows to see; on the other, they're something you really need to take into account when you're booking tickets for back-to-back Fringe shows. Remember to leave plenty of time for travelling between venues, and for queuing when you get there.
R is for the Royal Mile
Starting at Edinburgh Castle and tumbling down towards the Palace of Holyroodhouse, the Royal Mile is the historical thoroughfare that Edinburgh's Old Town is built around. It's split into several sections, including Castlehill, Lawnmarket and Canongate, but it's the High Street stretch that's especially noteworthy during the Fringe, hosting as it does the Virgin Money Street Events: a bustling, carnivalesque hubbub of buskers, jugglers, actors, magicians and assorted entertainers, all vying for your attention (and, if you're impressed, some of your spare change). It's the buzzing heart of Edinburgh during festival season – set aside some time to wander down it at least once, especially if you're a Fringe newbie.
S is for salt'n'sauce
The rivalry between Edinburgh and Glasgow is nowhere near as intense as it's cracked up to be, but one steadfast division remains: in the west, your chips come with salt and vinegar; in the east, it's salt'n'sauce. Still, if Scotland's greasiest street foods can't tempt you, you're sure to find some delectable pop-up vendor that can: from lobsters to curry to bratwurst to mac'n'cheese, the festival is a gourmand's paradise. Dig in.
T is for 2for1
On the first Monday and Tuesday of the Fringe, after the big opening weekend, tickets to a massive selection of shows are available at a discount – you can get two tickets for the price of one. These special shows are easily identifiable in our listings by their colour-coded dates – yellow on the Fringe app and website, red in the printed programme. (Of course, our aforementioned Fringe Friends get access to 2for1 tickets throughout the festival – find out more about becoming a Fringe Friend.)
U is for unusual venues
From underground carparks and 10th-century abbeys to shipping containers and chicken coops, the Fringe has had some wacky and wonderful venues over the years. If you're looking for a show that's out of the ordinary, try scoping out the weirdest venue you can find – even if the show's a million miles from what you'd normally watch (see B), the setting will be unique.
V is for volcanoes
Because Edinburgh's geography is defined by two extinct ones (Arthur's Seat and Castle Rock). And because it was more out there than 'venues', of which there are over 300. Including some weird ones – see above.
W is for word of mouth
Fringe chatter is a valuable resource – for audiences, it means hearing about a show that could be life-changing; for performers, it means more bums on seats. Don't be shy about getting into conversations with strangers in pre-show queues or venue beer gardens – and if you see something truly astounding, scribble it on the Recommendations Page of your programme (ie page one) and swap programmes with someone else. It could #MakeYourFringe.
X is for X-rated
We mentioned above that there are lots of family-friendly Fringe shows, and that's entirely true – but there are also some that might be unsuitable for younger audience members, featuring swearing, nudity, violence and so on. Always check the age rating when booking shows for kids and teenagers, and bear in mind that, due to licensing rules, some venues will be over-18s only too.
Y is for yesteryear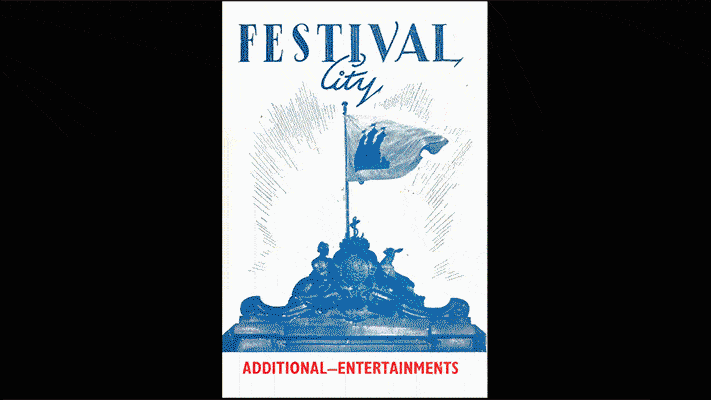 As much as we're about forward-thinking innovation and creativity, we're also justifiably proud of our long and storied Fringe history. Billy Connolly, Maggie Smith, Robin Williams, Trevor Noah and Phoebe Waller-Bridge have all made appearances at Fringes past, and there are sure to be performers this year who, when you look back in 20 years' time, you'll fondly remember seeing before they shot to superstardom.
Z is for Žagarė Fringe
When the Edinburgh Festival Fringe started in 1947, nobody knew it'd set such a long-running precedent. There are now more than 250 fringe festivals all over the world, from Adelaide in Australia to Žagarė in Lithuania; we celebrate them all annually on World Fringe Day (11 July).